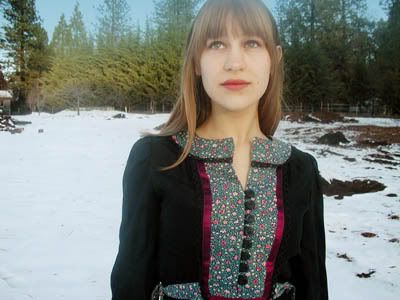 Joanna Newsom @ The Olympia, 14th April 2007
And, Emily - I saw you last night by the river
I dreamed you were skipping little stones across the surface of the water
Frowning at the angle where they were lost, and slipped under forever,
In a mud-cloud, mica-spangled, like the sky'd been breathing on a mirror
In twenty years, when music historians try to determine the musical visionarys of our generation, it will be a great shame if Joanna Newsom doesn't appear at the top of their list. At first glance, she seems impossibly twee, a diminuitive Calafornian harpist who sings like Lisa Simpson with a mouthful of marbles, writes 10 minute songs and uses words like "thee" and "fain" without a hint of irony. Her sophomore album was entitled Ys after a mythical city and the cover art depicted Newsom as a maiden in a renaissance painting. In this age of music downloads and Myspace, Newsom should feel quaint, out-dated, redundant.
Yet, when she takes the stage in the Olympia, almost dwarfed by her harp even with the high-heels she sports, the crowd goes insane, rolls of applause like thunder, wolf-whistles, screams, shouts of joy. How did this folkie garner such appreciation? The answer's simple – she just writes the best songs of the new millennium. They transcend time, sneak into your head without warning, one moment whispering pledges of love underneath a tinkling harp, the next ambushing you with a full orchestral arrangement, Newsom's voice sounding like nothing you've heard before. In Dublin, she doesn't have the orchestra with her, it's just a violinist, banjo/tambura player, drummer and herself. The Olympia is the perfect setting for a Joanna Newsom concert, a small venue, elegantly built, old fashioned.
She opens with Bridges & Balloons, an earlier song that elicts a whoop of joy from the audience before they settle down to listen attentively. It's the same throughout the whole concert, there are no big singalongs (even those familiar with the music would find it difficult to sing along with her). In the quiet moments you can hear a pin drop, every pluck of the harpstrings ringing out clear, every tremble of the cymbals shivering throughout the auditorium.
When she finishes the first song, she introduces the band by name, giving us time to cheer them all. When this is over, she bends her head to fiddle with the harpstrings and in the silence, a man's voice calls out "I love you Joanna!". The audience laugh and wait to see how she will react. She doesn't seem to have heard him, concentrating on her instrument. Then, "…aw, do you?" she sighs, a hint of a smile on her face. Her comic timing is impeccable.
The next song is the first from Ys, Emily, an ode to her astrophysicist sister who teaches her about the stars. It's one of my favourite songs and when the first "big" moment arrives in "We've seen those mountains kneeling, felten and grey, We thought our very hearts would up and melt away" I felt a shiver. When she reaches the closest thing the song has to a chourus, the almost catchy;
That the meteorite is a source of the light
And the meteor's just what we see
And the meteoroid is a stone that's devoid of the fire that propelled it to thee
you can almost sense the crowd aching to sing along, but nobody does. It's almost religious, the reverence she recieves.
She continues the show with the next song on Ys, Monkey and Bear. It's the clearest storyline out of all her songs, but that doesn't diminish the emotional wallop of the ending, in which the bear dies. Even when she's singing her most arcane songs, lines that simply don't make sense when read on paper, somehow her phrasing and accenting give them extra meaning, lacing the words with emotion or respect or humour. At times during the concert her phrasing is exactly like the recording, at others she twists phrases around, placing emphasis on different words. One wonders how she remembers some of these lyrics, the 17 minute Only Skin being one of the most impressive feats of memory, reeling off lines like she's reciting Shakespeare, uncomprehensible to some, filled with truth and beauty to others.
If some of my words sound overtly respectful or awefilled, I admit that once under the Newsom spell it's difficult to extract yourself. You can get swept up in the grandoise of the music, the classical allusions of the lyrics, but luckily, Newsom never takes herself too seriously. When she plays, she looks like she's in a trance, lightening-speeded fingers tapping at her instrument, hollering the melody, but once a song is over she snaps out of her reverie to joke with the audience. She relates a little anecdote about her last trip to Dublin, tells us of her love for Ned Collete, her supporting act. When a mobile phone goes off, she jokes "Is there a doctor in the house?" and then, moments later while playing the introduction to Cosmia, apologies "I bet that person is really embarrassed right now. I'm sorry for laughing at you…".
The set is a mixture of the old and the new. She plays every song from Ys and a handful of favourites from The Milk-Eyed Mender. The songs from the latter sound better than they do on the album, her voice has matured a lot since she recorded them and so has her sense of musicality.
The band are a delight. Most of the songs on Ys feature intense orchestral arrangements by Van Dyke Parks, but here they are transposed to one woman playing violin and one man playing the tambura and banjo. They do an admirable job and at times the music beautifully swells into something much more powerful than just four people playing music on a stage. Some changes are inspired, the smooth accordian on Cosmia is played as a quick, bluegrass-esque banjo solo, which is the only time during the night that the crowd appluad during a song.
When she announces "I've got two songs left", groans of disapointment ripple through the building and she looks up, surprised, "It's a long set, you guys! A long set!". And it was. Even at only about 12 songs, she played for a long time; and every song was an experience. It's a definite toss-up between this and Radiohead in Marlay Park for my favourite ever concert, but for the time being, Joanna's still on constant rotation on my cd player.