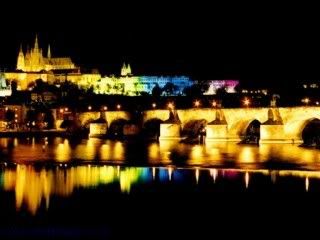 Well, after a full 13 hours sleep and a pot of strong coffee, I've finally recuperated from my trip to Prague. It was a great 5 days, probably the best foreign school trip I've been on (and most likely, the last). In 1st year I was skiing in Italy, which was a whole school event rather than a choir trip and in 3rd year I was in Paris with the choir. Prague was my favourite for a couple of reasons: I'm a senior now (which means more freedom) and it was also a city that interested me. While Italy is a cool place, it was primarily a ski-trip and we didn't get much of a chance to see the country, other than an excursion to Verona to see the place where Romeo & Juliet was set. (Which, on retrospect, I didn't fully appreciate at the time.) I'd already been to Paris at the time of the choir trip, and although the novelty had by no means worn off, there was no time to do my favourite Parisian stuff (i.e. spend days browsing in Shakespeare & Co., sit on the bank of the Seine reading, go to FNAC and stay hours). But Prague was different in that I had abosolutely no first-hand experience of the city.

This was remedied by our guide for the week, Adita. She was with us every day, morning to night and we learned all about Prague from her. Her English was excellent, but a thick accent and odd turn of phrase meant that some times she was absolutely hilarious.
"I will teach you some words now. Pivo is beer in Czech language. You are not permitted to drink it, probably, but in Prague, beer is very important. We drink a lot of beer. Also, we eat a lot of food. On Christmas, we give the presents a day early because we eat very large meal on Christmas and we don't know if we will be alive next day. Many Prague men are very fat. Actually, when I was going to birth my second child and I was just two weeks away from birth, we meaure my stomach and the stomach of my husband and we did not know who was going to the maternity hospital. He has big stomach.
(PAUSE)
But he is nice man."


She ended many speechs with the slightly ominous command,
"You must survive this."
She also talked quite a bit about defenstration (the act of throwing someone out a window). I was always aware of this as a funny, esoteric word, but I never expected to hear it in real context.

Her knowledge of the history of Prague and the Czech Republic was vast and she was more than willing to answer any questions we had about the city or the language. I have to say it's an utterly beautiful city, as is obvious by it's nickname; the Golden City of a Hundred Spires. Everywhere is like a picture book illustration and the whole city seeped in history. From the Habsburg dynasty, through the Nazis and WWII and the subsequent Soviet invasion, history is everywhere in Prague and you can't turn around without bumping into a statue comemerating someone or something.
One of the first major touristy sights we saw was the

Astronomical Clock

. This is situated in Old Town Square and is an impressive sight. Unlike any regular clock you've seen before, the Astronomical Clock counts the months and the position of the sun and moon in the sky. The figures of the 12 apostles appear at one of the windows once every hour and there are also four carved figures on the outside of the clock, representing Death, Jewish, Turkish and Vanity. The whole thing is an impressive jumble; it made sense to architects and astronomers, but to us it just looks like a mass of colour and circles. An interesting mass, mind you.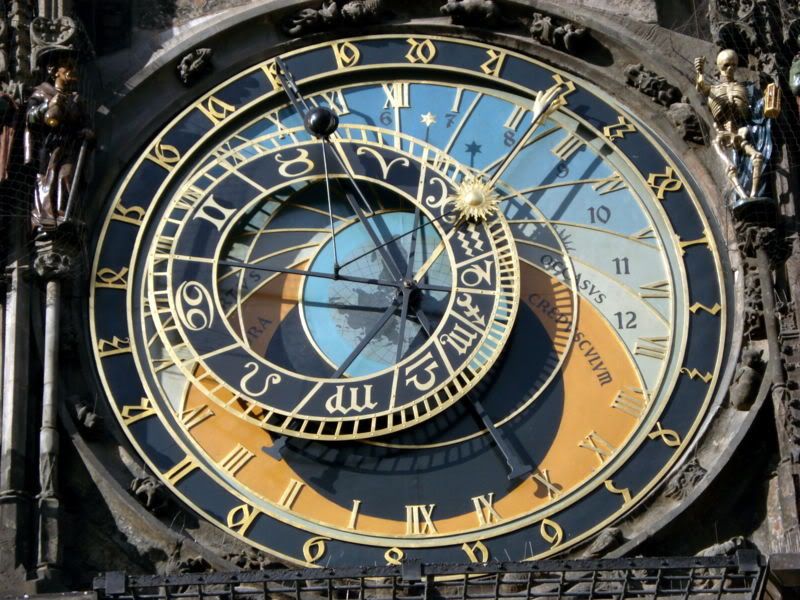 Adita instructed us to meet at the clock at 2pm, upon whence we witnessed the figures moving. Death starts ringing his bell (strangely fightening, even on a hot, bright afternoon surrounded by tourists) and the figures move jerkily, before the windows clack open and out come the apostles, slowly rotating past. It's all a bit reminiscent of
Clockwork
, the Philip Pullman book that frightened the life out of me when I was younger.

We also saw

Prague Castle

, an almost unbelievable place straight out of a fairy-tale. Anyone who's been to DisneyLand, imagine the sculptured turrets of one of the Princess' palaces and you're almost there. We heard the legend of St John who heard the Queen's confession and refused to tell the King what she confessed. He was beaten and tortured and when he still kept quiet, he was hurled off the Charles Bridge. Apparently, as he drowned in the Vltava, five golden stars appeared above his head.

I also got to try out my language skills! When I arrived, all I could say was hello and help me, but now my vocabulary encompasses the following:



hello, hi, help me, watch out, yes, no, thank you, please,
beer, wine,
where is the ice-cream, good dog

.

Useful as hell, I can tell ya.

Other things we did:



Concert/Mass

. It

was

a choir trip, and therefore we had to sing. On Monday evening we sang at a mass in the city centre, which was fine although we had no idea what was going on. Tuesday morning we went to the Mozart museum, situated in an old villa where Mozart used to stay. We got a chance to look around the exhibits and the gardens before singing in the open courtyard outside the museum. It was beautiful; although the sharp morning air forced us to leave our jackets on, the setting was lovely and singing John Rutter's ode to all things beautiful and nature, "For The Beauty of the Earth" with the birds twittering above our heads was an experience I'll never forget. We were all relived when the singing was over though, as it meant we could enjoy the rest of our time as a holiday.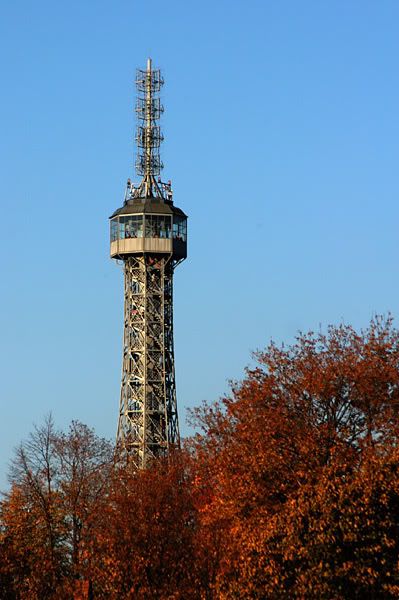 Petrin Lookout Tower

. A 1.5 scale reproduction of the Effiel Tower. I've read somewhere that although the tower is much smaller than it's Parisian twin, they're both at the same altitude because Petrin is on top of a hill. It's an awful strain on the legs as we trudged up the steps, but the view at the top was worth it. If you can get over the head-spinning height, the sprawling panoramic view of the entire city is dazzling. The eyes are overloaded with sights, the winding Vltava river, the multitude of spires and turrets, the Castle and much more. On the ground around the tower is a small cafe and gift shop and a hundred yards away is the

Hall of Mirrors

whichactually works like it's supposed to, crazily. I got to experience being tall!

We went to a

Black Light Theatre

show called Aspects of Alice. It was a mime/music/light/shadow/puppet/video performance thing that was almost as bizare as that sounds. And in the second half there was nudity, which was hilarious as I was sitting in front of the teachers. Half of them were scandalised and the others were snorting with laughter.



Charles Bridge

. We crossed the picturesque bridge on our way to the theatre. It was late evening, the view was just spectacular and the place was aswarm, which explains why I didn't notice the hooded figures until I almost ran into one. There were a group of about twenty men and women dressed in long back cloaks and hoods, kind of resembling Death Eaters or those things in The Village. Their faces were hidden, some by their clothing and others wore skeleton masks. Although the figures weren't doing much, just milling around and leaning on the side of the bridge, people began to get slightly uneasy. This feeling was magnified when one of them walked up to one of the teachers and began to loom over her, walking her backwards and opening his arms wide, pressed up into her face. She just laughed it off and then everyone took pictures of the Death Eaters. "They aren't coming out!" people wailed in horror as they inspected their digital cameras. "You can't see them on the screen!" It was obviously because they didn't show up black in the darkness, but it was thrillingly spooky, in a fun way.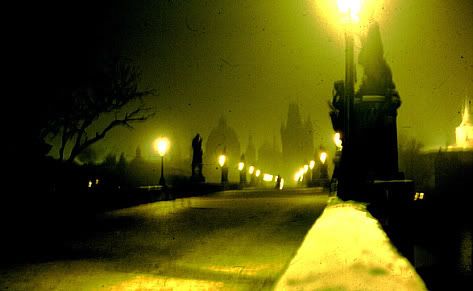 Ice Skating

. Yeah, I suck at balance.



Terezin Concentration Camp.

This was the hardest thing we did. On Thursday morning, after a late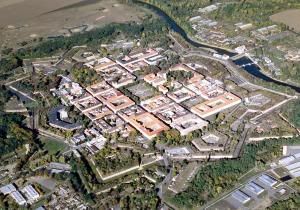 night (I fell asleep in my clothes, on the floor. Uck.) and an early morning dragging our luggage into the coach, we set off for the village of Terezin. There are two sides of it, the village which used to be a Jewish Ghetto and is now a regular town with shops, restaurants and houses, and the fortress which was originally a prison and was used as a concentration camp in WWII. Unlike Auschwitz or Dachau, Terezin was not a typical extermination camp in the usual sense. There were no gas chambers and it was primarily used as stopover for people on their way to other camps in Europe. But, as the guide explained, many people died there. The Nazis didn't have to use gas to kill thousands, they worked people to death, they starved them, they locked them in tiny cells for days upon end without food or water. We saw the single cells (horrible cramped rooms with no windows) and a mass cell where 80 men were kept for weeks. These men were forced to stand upright, because there was no room to sit or lie down. Just to give you an idea, there were about 45 in our tour group, and we were getting clasutrophobic. We saw the workyards, the execution sites and walked through an underground tunnel, half a kilometre long, that was built when the site was just a prison. The whole thing was upsetting, in a numb kind of way. Learning about concentration camps used to upset me greatly when I was little, and actually being inside one was an uncomfortable experience. The Jewish Ghetto was the same, we visited a couple of museums and the crematorium and they were all very depressing. It was a sobering experience but I'm glad I experienced it. A lot of girls were bored, especially the younger ones, which is understandable but I tried to take it all in. It's important to remember this period of history, even if it's not exactly enjoyable. Only by remembering this stuff in the past can prevent us from repeating it in the future.

The only thing I was disapointed about was that I didn't get to visit the Kafka Museum. But I know that there would have only been a small number of the group who would have cared to visit it, and this just gives me an incentive to return to the city again. I did buy a Kafka t-shirt and notebook. As the old saying goes, when in Prague, buy tacky Kafka merchendise.

I left my camera behind, but wasn't too torn up about it. My friends brought enough to stock a Kodak factory and I was afraid of being stuck behind the lens rather than seeing things first-hand and taking it all in. I plan to steal some photos when they inevitably turn up on Bebo within the next few days and will duitifully put them up here.

UPDATE: Added some pictures. These are just taken from various websites, I haven't been able to get ahold of photos taken by choir members. Yet.

I'm off to lie on my bed now. Going to see Faure's Requiem in St. Patricks' Cathedral tonights!