I think I speak for all of us when I say, "This town...(aah-aah) Is becoming like a Ghost Town (aah-aah)..."
No, wait. What? Ah, yes.
The 79th Annual Academy Awards
. Mostly Yays, a couple of Nays but nothing to get sulky over. I was only able to see the highlights on RTE 2 tonight because A) I don't have Sky Movies and B) I was not arsed staying up till 4am watching them anyway. So, I spent all of today avoiding newspapers, radio and anyone who might know who won the awards I had any interest in. I don't have too much to say because I didn't have a pen to hand to jot down any amusing/interesting things, so I'll just hope I remembered this stuff right.
Things I liked:
Pan's Labyrinth winning Cinematography, Art Direction and Make-Up. Even though it deserved to win Best Original Screenplay and Foreign Film, at least the beautiful look of the film was honoured. Guillermo del Toro just rocks, I've never seen the man look annoyed or bored or pissed off.
Alan Arkin getting all teary-eyed at his speech. There were a lot of tears, actually. Not to an embarrassing extent, mind. Just...nice.
Future Ex Vice-Presidential Nominee (or whatever he calls himself) Al Gore winning for An Inconvenient Truth.
I also thought it hilarious that Dreamgirls didn't win any of their three Best Song nominations! They just kind of screamed their way through the songs, and although Randy Newman is a personal hero of mine, his song with James Taylor put me into a coma for four minutes. Melissa Etheridge deserved to win for her song from An Inconvenient Truth.
The two montage thingies I liked best were the Foreign Film and Ennio Moricone theme music one. I enjoyed spotting all the films in the Foreign Films montage, well, some of them. So happy that All About My Mother was there. I didn't like...yell and point at the screen in happiness. Eh, no. Not at all.
Tobey Maguire and Kirsten Dunst walking out to the strains of the Spidey theme music.
One part I so did not get was when Ellen DeGeneres (who was a pretty good host) was hoovering up in the front row. What was that about? Funny though, especially Meryl Streep just sticking out her legs to avoid the hoover and Penelope Cruz's frantic rush to gather up her huge skirt out of the way.
My favourite part of the evening was Martin Scorcese finally winning his Best Director Oscar. When they announced his name, my sister and I jumped up. He was so cute and disbelieving.
Thank you. Thank you. Thank you. Thank you. Thank you. Rick. Thank you. Thank you. Thank you. Thank you. Thank you. Please, please. Thank you. Thank you. Could you double-check the envelope, please? I mean, I'm overwhelmed with this honor from the Academy and also the honor of being presented by my old, old friends. We go back 37 years. I'm so moved, so moved.


And afterwards, when The Departed won Best Picture, Marty was just standing in the wings looking slightly bemused. Whippie!



Things I didn't like:


Those fucking penguins won Animation. What the ho? I never saw it, but screw 'em. Monster House was such a great film.

Everyone knew I was still rooting for Penelope Cruz for Best Actress - but I wasn't too shocked when they called Helen Mirren. She had a very gracious speech though and from the clips I've seen, her performance was astounding.


Forrest Whitikar's speech was too long. I'm still glad he won, but poor Peter O'Toole looked devastated. Aww.

Diane Keaton needs to act her age and stop with the hand movements. Her and Jack Nicholson were kind of irritating presenting the Best Picture. Didn't he present it last year, and make that hilarious "wtf" face when Crash won? Hah. No such surprises this time.



My favourite award:

It's got to be Marty.


My least favourite award:

Um...Happy Feet.


Best Presenter:

George Clooney


Worst Presenter:

Cameron Diaz. She totally fluffed her lines.


Best Dressed:

Hard. I liked Kate Winslet's dress and Penelope Cruz's one too. Meryl Streep looked kind of drunk, but still good. The men are obviously harder to judge because they all had tuxedos on.. Actually, Ellen had some funky suits.


Worst Dressed:

I hated what Kirsten Dunst was wearing, but I fear my hatred toward her is clouding my judgement. Nah, it was just an ugly dress.


Funniest Moment:

Unintentionally funny, when Ennio Moricone was giving his speech and Clint Eastwood was supposed to translate, but just stood there like a wooden plank. Awkward silence. Then, Eastwood says "Yeeeeah". Which was just...hilarious. His speech (when Eastwood finally copped on to himself) was very touching though.

I really need to get to bed now, so I'll leave you with some pretty pictures.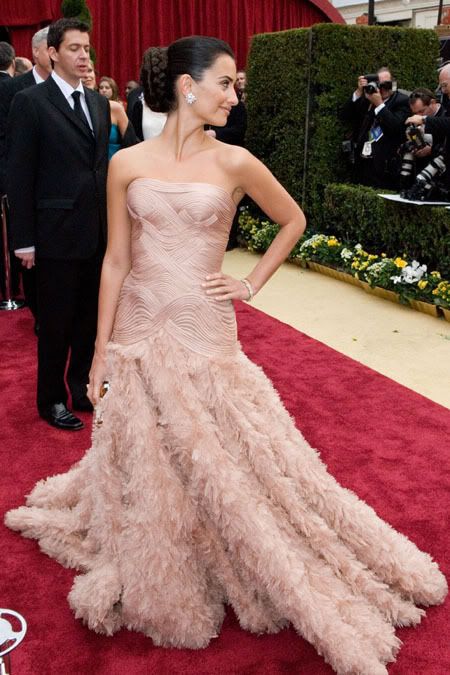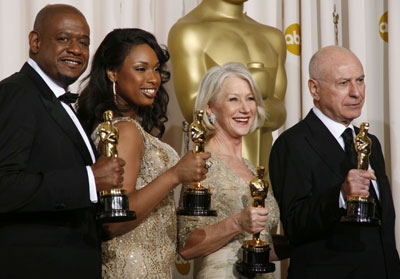 Okay, pretend George Lucas isn't in this one. He angers me. The other three are cool though.