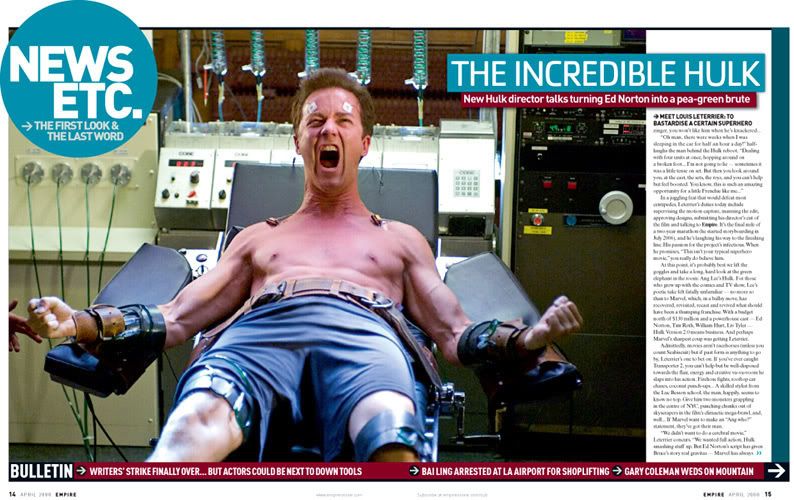 This is what Empire Magazine just sent to my inbox. I think that's the first picture I've seen of him actually...Hulkifying. The only other still I've seen is that old one with a pensive Norton gazing into a glass vial. The email included a quote from The Hulk's director, Louis Letterier;
"We didn't want to make a cerebral movie...Admittedly, I'm not the most adult director, but just because we're making a superhero movie, it doesn't just have to appeal to 13-year-old boys. Ed and I both see superheroes as the new Greek gods, so there's a classical undercurrent to Bruce's psycho-drama. It's Prometheus, Pandora's Box, Hercules...but with explosions!".
A film starring and written by Edward Norton can't help but be cerebral, I think - but this sounds like a good sign that they're not taking this too seriously. If The Incredible Hulk turns out to be something akin to Spiderman or X-Men II, consider me intruiged. The supporting cast seem interesting as well; Robert Downey Jr, Tim Blake Nelson, William Hurt, Tim Roth and...Liv Tyler? I had completely forgottten she was an actual actress and not an elf.