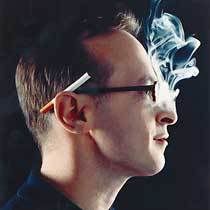 One Saturday, while browsing through second-hand bookshops, I came across a well-thumbed, slightly bent copy of David Sedaris' short story collection,

Me Talk Pretty One Day

. At the low, low price of $3.50 (how does one get a euro sign to work?), I just had to buy it. I'd already read it a couple of times, but I needed my own copy.

Later, while on the bus home, I took the risk of getting travel-sick and began to read a couple of the stories. Midway through

Jesus Saves

, I had to stop. Not because I was about to get sick, but because my loud giggles were disturbing the people around me. I closed the book hurriedly and shoved it in my bag. Too late, the words were stuck in my brain and I couldn't help myself. Shoulder quivering with the force of trying to hold back the laughter, eyes brimming over with mirthful tears, I stared out of the window and made myself think of Sad Things.

Okay, I'll admit that it's quite easy to make me laugh. My sister once threatened to disown me when we went to see Flushed Away (that movie was brilliant on about ten different levels) I was laughing so hard. But Sedaris is someone special. No matter how many times I read his writing, no matter if I know the stories almost by heart, I still find them amazingly amusing.

David Sedaris is an American humourist now living in France. He's gay, comes from a large family and once worked as an elf in a department store. His account of this job, as told in the story

The SantaLand Diaries

, is one of my favourite short stories of all time. Yep, a non-fiction comedy piece is up there with Lorrie Moore, Kafka and the rest of 'em. Listen to the story here - Sedaris also reads his work on American radio. Once you listen to him reading, his voice will never leave your head. In a good way, I mean.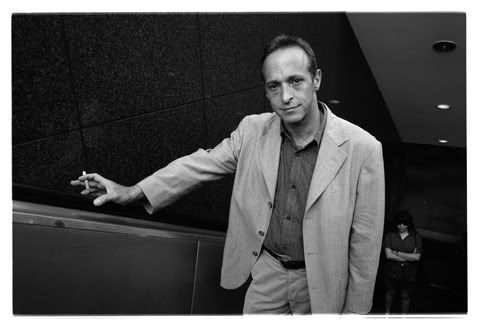 Some of his best work comes from his struggles with the French language. When he first moved to France, the only word he knew was "bottleneck", which, as you can imagine, isn't the most useful phrase to have at your disposal. Fortunately, after a torturous series of French lessons ("

It was mid-October when the teacher singled me out saying 'Every day spent with you is like having a cesarean section'. And it struck me, for the first time since arriving in France, I could understand every word that someone was saying

") he became quite fluent. He puts his life into his work,
we know his family, his childhood, his lovelife and his little quirks and foibles. Over the years that I've read him (I first came across his writing in Paris, around 2004) I've grown to love his work like an old friend. His books sit on my shelves, waiting for those days when I feel miserable and need someone to make me smile again.
But don't take my word on it. Check him out for yourselves;
In The Waiting Room
Memento Mori

Interview with David Sedaris
=======
Other links of interest:
I wouldn't wear
this shirt
, but it sure does make me laugh.
Emma over at
All About My Movies
is holding a blogathon this July on the subject of "Performances that Changed Your Life". Sign up now!
And don't forgot, series 3 of
Doctor Who
is beginning this Saturday!